Work From Home Aegona Update During Covid'19 Epidemic 2021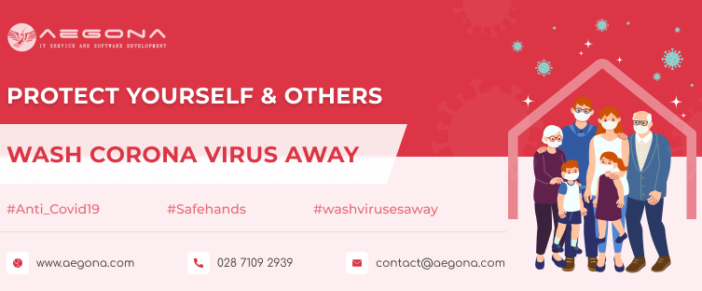 Up to now, it has been nearly 2 months since ho chi minh city, vietnam entered the 4th covid'19 epidemic. The leadership of aegona software company quickly sent the decision to work from home to the employees. in the extremely complicated situation of the epidemic, the safety of employees is aegona's top priority
Begining 0:00am on July 09, 2021 Ho Chi Minh City applies Directive 16 and is more stringent from July 15, Ho Chi Minh City: Stop operating businesses that do not meet the requirements of COVID-19 disease prevention and control, because the acute respiratory infection caused by the corona virus strain began to spread more strongly than ever by the delta variant. Therefore, Aegona quickly let employees work from home according to the directive and to ensure the health of the employees.
COMMUNICATION ACTIVITIES, PROPAGANDA AND EPIDEMIC PREVENTION – COMPLETE REGISTRATION FOR COVID'19 VACCINE
Before directive 16, Aegona Software Company immediately established an Internal Propaganda & Anti-epidemic department to closely monitor the situation and take timely measures to ensure the safety of all. staffs. In addition to equipping employees with masks and sanitizers, the company also quickly implemented hygiene recommendations to keep distance at the office.
In addition, on June 24, Aegona also registered for all employees to vaccinate against Covid'19 at Quang Trung software park, almost 100% of employees have received the first dose of Vaccine. waiting for the second injection in the next 6 weeks
ACTIVITIES TO ENCOURAGE AND CONNECT MEMBERS WHEN WORKING FROM HOME
When working from home, the company also had many online meetings, happy times took place to ensure employees were updated with the most accurate information about epidemiology and local situation according to each development. of epidemics. And have moments of entertainment with fun minigames together
More than anyone else, we have understood the general psychology of working from home during a sensitive time of the pandemic, Aegona always pays special attention to employees. That Communications Department has many activities sent to employees about effective working from home tips to remind employees to take more care of themselves by simple ways such as Keeping a distance from loved ones – Distance working place bed – Always stay online, keep in regular contact with colleagues – Discuss with loved ones in advance to avoid being disturbed at work. The Human Resources Department also sent employees suggestions for some essential sales websites and always encouraged employees to continue to stay at home to join hands with the Government's efforts to fight Covid-19.
In addition, Aegona staff enthusiastically responded to the challenge of sharing working photos from home on the Fanpage "AGN-ers' Small Corner during Covid-19 season" organized by the Communications Department, with encouraging content. Members share unique and creative photos and videos about their small working-from-home corner and include a post about your impressions and meanings about the recent Covid-19 Pandemic. With the value of cash gifts to cheer you up
At the same time, to encourage the spirit of enthusiastic participation, the Company's representative gave a small gift is "LITTLE SURPRISE BOX" to the employees' homes during the increasingly complicated epidemic days. With the hope of encouraging and encouraging you during the time you have to work from home
APPLY MODERN SOFTWARE TOOLS & PROFESSIONAL WORKFLOW WHEN WORKING FROM HOME
Although they cannot meet in person, all Aegona members keep close connections and discuss daily affairs with each other thanks to online tools. Office meetings have now become online meetings via Microsoft Team, Zoom, business dialogues continue thanks to chat groups on Team, Slack, Jira, Viber, Whatsapp, Telegram and Zalo with guests row. If you want to update your colleagues' daily life, there is an internal Yammer page
Although there are still many problems compared to other generations when moving from the traditional working environment to Work From Home. The four main challenges facing working from home are: productivity, boredom, mental health, and skill development. However, with the effort and strict working process, the work reporting system, online timesheet built by Aegona has helped to optimize the efficiency of members working at home.
Because working in a technology company environment, the working location is quite flexible, as long as there are enough working equipment and a strong WiFi internet connection, the work will not be affected as much as other professions. Hopefully, software company Aegona will always maintain the same working process as now until HCMC becomes normalized.
CONCLUSION
More than anyone else, businesses are the ones most affected by the Covid'19 Pandemic. Let's strive together to build a professional working environment and standard procedures whether it is working from home or working directly at the office.
Hopefully the pandemic will soon be controlled and we will see our lovely colleagues again and return to normal activities. Then we will have more picnics full of fun!
To learn more about workflow solution and business management software, remote work reporting software system. You can contact Aegona for advice via:
Software Development Company - AEGONA
Email: [email protected]
Hotline: +84 28 71092939    |   Hotline: +84 933 848989
Website: www.aegona.com
Fanpage: Aegona Ltd
Address: Floor 4th QTSC Building 9, Quang Trung Software City, District 12, Ho Chi Minh City, Viet Nam

connect with us
THERE'RE SEVERAL WAYS TO CONNECT WITH US