How to build up an offshore development center in Vietnam
Discover a comprehensive guide on establishing an Offshore Development Center (ODC) in Vietnam. From market research to legal compliance, and recruitment strategies to fostering cultural integration to streamline the process and maximize your organization's global potential.
Vietnam has emerged as a leading destination for companies seeking to establish ODCs to leverage its thriving IT and skilled talent pool. Setting up an ODC in Vietnam involves a series of strategic steps and considerations to ensure the success of your offshore team and projects. In this comprehensive guide, we will walk you through the essential steps needed to build a proficient offshore development center in Vietnam.
Definition of Offshore Development Center (ODC)
An Offshore Development Center (ODC) is a dedicated and often remote facility or offshore development team that a company establishes in a different country, typically in a location with a lower cost of living or access to a specialized talent pool. The primary purpose of an ODC is to outsource specific software development, IT, or business process tasks to leverage cost advantages, access a broader talent pool, and focus on core business functions.
The purpose of setting up an ODC is to achieve cost savings, save time accessing specialized skills, and improve operational efficiency, while the benefits encompass cost efficiency, scalability, access to talent, and the ability to focus on core competencies, ultimately contributing to a more competitive and agile working environment.
Why choose Vietnam for Offshore Development?
Because Vietnam has emerged as a prime destination for companies looking to establish Offshore Development Centers (ODCs). The country offers a compelling blend of a rapidly growing tech ecosystem, a skilled workforce, cost-effectiveness, and a supportive business environment.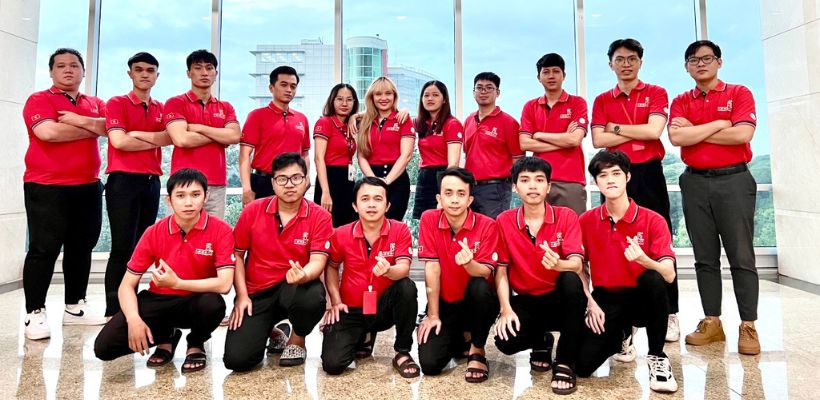 Cost-Effectiveness: Vietnam provides cost advantages compared to many other outsourcing destinations, making it attractive for businesses aiming to optimize expenses while maintaining high-quality output.

Booming Tech Industry: The country's tech industry is experiencing significant growth, with a burgeoning number of skilled IT professionals and a thriving startup ecosystem, making it conducive for technology-driven projects.

Young and Educated Workforce: Vietnam boasts a young, dynamic, and well-educated workforce, often proficient in English and equipped with the latest technological skills, ideal for collaborative offshore projects.
Steps to set up an Offshore Development Center
Defining Objectives and Requirements: Objectives, project scope, and technical expertise are three factors you need to clearly define because they are essential to your ODC. Based on project needs, you will consider which position components you need to add to the project in addition to the internal team to develop the plan.

Partner Selection: Because Vietnam is very developing in the ODC field, offshore development companies are becoming more and more diverse. Therefore, to find a trustworthy company to develop your offshore development team, you must choose carefully, consider whether the team has diverse skills, and whether the company's working environment is suitable. with your original purpose and requirements. 

Below are some criteria for choosing the right partner:

- Project Execution and Capabilities: Assess the foreign company's capabilities by thoroughly examining their past and current projects. Evaluate the complexity, scale, and successful execution of these projects to gauge their proficiency in delivering solutions that align with your collaboration objectives.

- Appropriateness and Clarity of Work Model: Evaluate the proposed work model of the foreign company to ensure it aligns with your specific requirements and expectations. Assess the clarity and comprehensiveness of their work model to ensure a smooth integration of processes and responsibilities within collaborative efforts.
Recruitment and Team Building: After choosing the right offshore development company, the company will send you some personnel information for you to select according to your assessment. The selection of team members is decided by you based on the CV that the ODC service provider previously sent you. Once you have completed the selection process, you will meet with your team to discuss the role and worktime.

Performance Management and Growth: Next, you need to implement performance measurement systems and strategies to monitor productivity, manage performance, and facilitate development in ODC so that your outsourcing team can understand and understand the process and culture. Optimize your company's work to easily promote work efficiency.
Aegona - Your perfect offshore development center partner
Aegona is an IT service company based in Ho Chi Minh City, Vietnam. At Aegona we provide Software Development, Web Development, Mobile Development, and Software Maintenance services for North America, Japan, Singapore, and Vietnam.
Aegona operates with the desire to make a difference with software development technologies coupled with reasonable prices. At the same time, Aegona also aims for sustainability with the goal of helping the IT market grow domestically and abroad.
In the current process of rapid digital transformation, Aegona understands the difficulties and challenges facing small, and medium or big-sized businesses or startups. Coming to Aegona, we also provide the following services to help businesses achieve expected growth and at the same time accelerate digital transformation for businesses.
Web Development: For web development services, Aegona focuses on graphic UI/UX design of websites according to your requirements or maintaining/upgrading websites and web applications for your business. Depending on your business needs, you can choose to develop a simple static website or a complex dynamic web application.

Mobile App Development: Aegona has experience in developing mobile applications across various sectors such as education, beauty, and entertainment for clients in the APAC and Vietnam markets. These applications, upon completion, always received 100% satisfaction from clients for product quality.

Hire Offshore Developers: To meet short-term human resource needs while ensuring quality, Aegona offers hire offshore developer services. These developers are dedicated to their work, possess extensive experience, and have strong communication skills with international clients. Your business can opt for short-term hires ranging from 1 to 3 months or long-term hires from 6 months, depending on the project needs of the business.

Rent Server or Cloud-Based: In addition to web application, app, and software development services, Aegona also provides server and cloud-based rentals for businesses with specific needs.
In Vietnam, the number of outsourcing companies is increasing, Aegona is one of the companies in IT service and software development company was a lot of clients choose to be trusted partners in their projects. To choose Aegona for your offshore development center formulation and management needs, you can contact us via email at [email protected] or contact number +84 914 528 869 (Whatsapp) for advice and support for the success of the project.
Read more:

connect with us
THERE'RE SEVERAL WAYS TO CONNECT WITH US