MOBILE APP DEVELOPMENT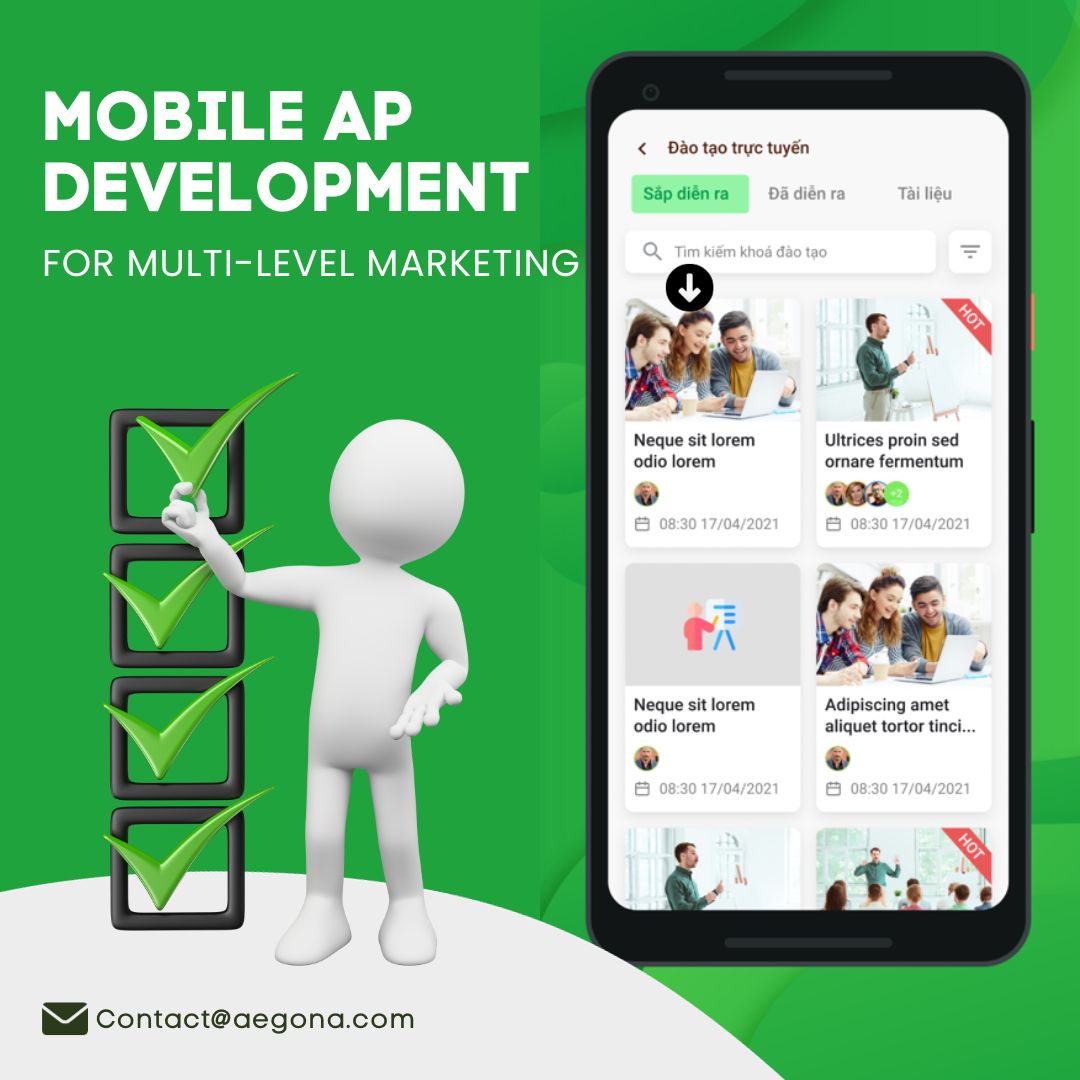 Inno* app is a mobile application designed to support the development of marketing and sales member networks (multi-level marketing) in the Vietnamese market. Aegona is honored to collaborate and successfully develop this project.
1.     MOBILE APP DEVELOPMENT FOR MULTI-LEVEL MANAGEMENT & MARKETING: 
        In this case study, the customer is a large multinational corporation with headquarters abroad and branches in several countries, including Vietnam. To expand their market presence in Vietnam, they approached AEGONA to mobile app development with the aim of growing their sales member network and enhancing the quality of their sales team.
       The multi-level marketing model is a prevalent sales approach worldwide. The customer had specific requirements regarding point calculation and level distribution within their system. This calculation method is commonly referred to as an API, provided by the parent company. Furthermore, the development of this mobile app required additional integrations to effectively tap into the Vietnamese market. Details about this mobile app are outlined below.
2.     MULTI-LEVEL MARKETING MOBILE APP DEVELOPMENT BASIC REQUIREMENTS:
Manage the number, ranks, and network of members within the system.
Distribute levels to members of various ranks, allowing each level to view and manage members below their rank.
Each user has a network based on their level. The point system helps elevate levels and calculate commissions for each member.
Provide documents and paid courses for members.
Integrate a payment gateway directly into the mobile app.
Update and notify users of communication events.
Design the UI/UX with a white and green tone.
3.     MANAGEMENT AND TECHNICAL REQUIREMENTS:
Maximum member capacity: 1 million members.
5000 simultaneous user accesses.
Admin management site provided.
Level calculation (API) to be provided by the parent company, and Aegona must synchronize it within the app system.
4.     THE PROCESS OF DEVELOPING THE MOBILE APP FOR THE CLIENT
Project Duration: 3 months
Technology: Microsoft .Net 5, ReactJS & React Native (iOS & Android)
Team: 3 developers + 2 BA/QC
Release Date: August 2021
Warranty & Maintenance: 3 months (free of charge)
        Additionally, the client had specific alterations to the initial requirements, and the Aegona team consistently strived to implement these changes effectively to help accelerate the client's business plan.
       When changes occurred, our team and the client's representative often held meetings to clarify the new requirements, and Aegona proposed efficient and cost-effective solutions for the project. This is why Aegona gained the trust of the client to continue implementing annual maintenance contracts and prepare for the development of a mobile app for the E-commerce Management System.
5. TO ORDER DEVELOPMENT OF A CUSTOM MOBILE APP AT AEGONA:
        Aegona has provided custom mobile app development services for numerous clients worldwide, serving various sectors and diverse solutions such as:
Customer Relationship Management
Enterprise Resource Planning
Order Management System
Warehouse Management
Booking Software
E-learning Software
Healthcare Software
      You can contact Aegona's team at email: [email protected] or Hotline: (+84) 914 518 869 (WhatsApp) to share your ideas and turn them into a mobile app product to boost your business.
See more:
- IMPROVING ORDER MANAGEMENT THROUGH MOBILE APP DEVELOPMENT
- FLUTTER - A BREAKTHROUGH IN CROSS-PLATFORM APP DEVELOPMENT
related post
Python, Django, Wagtail CMS, ReactJS, Typescript, Shopify
.Net, ReactJS & React Native

connect with us
THERE'RE SEVERAL WAYS TO CONNECT WITH US